If 2020 was the year for
cannabis startups
to tighten their belts, trim the fat, and focus on weathering the pandemic, then 2021 is set to be a boon for the companies that have emerged mostly unscathed, investors told Business Insider.
We asked the top private equity and venture investors in the cannabis industry to name the startups they believe are poised for major growth in 2021. The startups that made our list range from dispensary and cultivation chains, like Ascend Wellness Holdings, to cannabis software firms like Dutchie.
Most of the investors we talked to said that startups with strong management teams that made it through 2020 will have lots of opportunity in front of them next year, as more states open legal cannabis markets, and institutional investors start getting more comfortable with the industry.
Each investor was asked to recommend one startup they invested in and one they hadn't. In total, investors gave us 27 names — the following five came up most often.
Here are the top five startups cannabis investors say will blow up in 2021:
LeafLink — 3 votes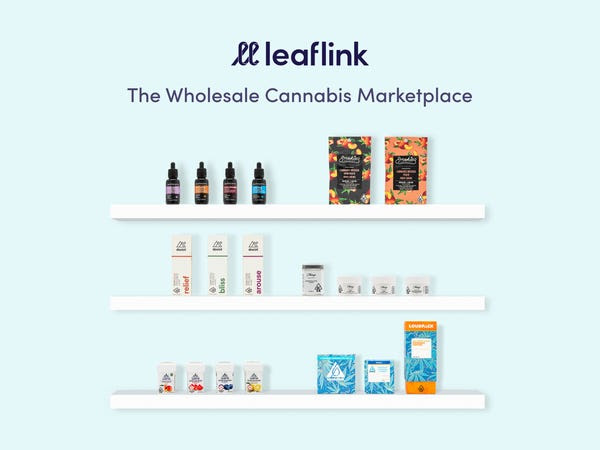 LeafLink ShelfLeafLink
Founded: 2015
Located: New York City (HQ), Los Angeles, Toronto
Post-money valuation: Declined to disclose.
Biggest funding round of 2020: $40 million closed in December 2020
Total raised to date: $91 million, according to LeafLink. The company also closed a $250 million debt facility earlier this year to support its payment product.
What the company does: LeafLink is a wholesale marketplace for the cannabis industry. The company says its e-commerce marketplace approach has "optimized and fueled the growth of the cannabis industry, creating new efficiencies in the wholesale buying process with supply-chain software and services."
Why VCs like the company:
DCM Ventures partner Kyle Lui says LeafLink's payments product, LeafLink Financial, is "a much-needed solution that should see strong continued growth."
"LeafLink, a portfolio company since January 2017, is our top pick and best performing investment," Phyto Partners' Larry Schnurmacher told Business Insider. He says the startup is the largest business-to-business marketplace in the cannabis industry.
Schnurmacher says his firm made its initial investment in the company's seed round. "We believe LL [LeafLink] will be the most valuable ancillary company in cannabis," he added in an email.
Gron Ventures managing partner Wilder Ramsey says that he likes Leaflink because it powers a third of the cannabis wholesale market in the US. This, he said, is "an incredible, winning position that would be difficult or impossible to achieve in a mature industry."
"Their new lending and logistics products are solving critical problems in the space, allowing customers to scale compliantly with far more flexibility, and we expect the company's services to be so ubiquitous and foundational in the space that in 10 years it will be no exaggeration to say the industry was built on Leaflink," Ramsey continued.
Dutchie — 3 votes
Dutchie CEO Ross Lipson.Dutchie
Founded: 2017
Located: Bend, Oregon
Post-money valuation: $205 million, according to PitchBook. Dutchie declined to disclose a figure.
Biggest funding round of 2020: $35 million closed in August 2020. Read Business Insider's coverage of the round here, where we got an exclusive look at the pitch deck Dutchie used to close the round.
Total raised to date: $53 million, according to Dutchie.
What the company does: Dutchie is an e-commerce software startup that connects cannabis consumers to dispensaries and allows them to order products from their homes. It also powers online ordering tools for the dispensaries themselves.
Why VCs like the company:
"Dutchie was an early mover in the B2C eCommerce space in cannabis, and while not a HALLEY portfolio company, B2C eCommerce is a large component of nearly every other product and service outside of cannabis," HALLEY Venture Partners Managing Director Steve Schuman told Business Insider. "WeedMaps' recently announced $1.5 billion deal with Silver Spike SPAC is a validation of the growing importance of that piece of the puzzle."
In general, Schuman said, e-commerce feels fragmented and underdeveloped in the cannabis space, and his firm continues to look for solutions to help brands and dispensaries connect with consumers and patients online.
"Dutchie is the leading e-commerce platform in cannabis," says Gron Ventures managing partner Wilder Ramsey. "In three years it has grown from zero to more than $2.6 billion in annual GMV, making it one of the fastest-growing and most efficient commerce platforms of all time, in any vertical."
"This performance is testament to a remarkable team," Ramsey continued, "anchored by brothers Ross and Zach Lipson, who are setting pace for all of us in an industry characterized by torrid growth."
"Dutchie is already a success story and they are going big with their recent raise," said Panther Opportunity Fund's Jordan Tritt. "Their CEO, Ross Lipson, has already exited multiple businesses in the online ordering and delivery space and his timing is right with the increased digitization of cannabis favoring online ordering."
Grassdoor — 3 votes
An employee stocks cannabis at a store shortly before its first day of recreational marijuana sales in San Francisco on January 6, 2018.Noah Berger/AP Photos
Founded: 2018
Located: Commerce, California
Post-money valuation: Declined to disclose.
Biggest funding round of 2020: Declined to disclose.
Total raised to date: Declined to disclose.
What the company does: Grassdoor is a startup that delivers cannabis products from dispensaries to consumers in Southern California. The company declined to comment for this article.
Why VCs like the company:
Grassdoor has an impressive team and technology, Navy Capital's Sean Stiefel told Busness Insider. The company also has a "differentiated business model to go after the DTC delivery market," Stiefel said in an email.
"Because they developed their depot processes in parallel with their proprietary tech stack, they have been able to scale their business in an incredibly efficient manner," said AFI Capital Partners' Nico Richardson. "As a result, Grassdoor has become a leading delivery platform in less than two years of operation."
"Operating in DTC (direct to consumer) cannabis delivery, Grassdoor has a lot of competition," Measure 8 founding partner Boris Jordan told Business Insider. "In a short period of time, the company has earned top marks from customers as the 'go-to' platform for cannabis on demand."
With constant focus on efficiency and customer service, Jordan says his firm sees a bright future for the company.
Connected — 2 votes
Connected CEO Sam Ghods.Connected
Founded: 2009
Located: Sacramento, California
Post-money valuation: Decline to disclose.
Biggest funding round of 2020: N/A
Total raised to date: $25 million Series A round closed July 2019
What the company does: Connected is a craft California cannabis brand that sells high-end flower.
Why VCs like the company:
Connected is "the leading flower company in California with a fantastic management team," said Navy Capital's Sean Stiefel.
The company dominates the premium flower market in California, Stiefel said.
"Connected Cannabis grows and manufactures high-quality cannabis flower at scale," said Gotham Green Partners' Jason Adler. "Compared to most craft brands in the state, Connected has differentiated itself with an ability to produce a consistent quality product at scale and seamlessly introduce new strains in a relatively short time frame."
"We believe that the high-end flower segment will continue to benefit from several tailwinds, particularly the maturation of the consumer palate and new recreational markets with greenfield opportunities for expansion," Adler continued.
Ascend Wellness — 2 votes
In this March 25, 2018 file photo, a convention visitor examines a marijuana sample at the New England Cannabis Convention in Boston.AP Photo/Steven Senne, File
Founded: 2018
Located: New York, New York
Post-money valuation: Declined to disclose.
Biggest funding round of 2020: $68.2 million closed in August.
Total raised to date: $208.63 million, according to PitchBook. Ascend Wellness declined to disclose a figure.
What the company does: Ascend Wellness is privately owned cannabis cultivation and dispensary chain, known in the industry as multi-state operators or MSOs. It operates in five states including Illinois, Michigan, Massachusetts, New Jersey, and Ohio.
The company said in an email to Business Insider that it focuses on limited license states east of the Rockies, "with flagship locations in desirable retail corridors serving key medical and adult-use markets."
Why VCs like the company:
Salveo Capital's Michael Gruber says he believes Ascend Wellness's presence in key states like New Jersey means it will be well-positioned for growth.
"We are an investor in the company and had added additional capital to our investment this year. The passing of adult-use in NJ this November is a huge step, and with NJ in our belief will be an amazingly good market," Gruber said in an email. "This will also likely be key impetus to spur NY, PA, and CT to legalize adult-use as well."
Gruber added that Salveo is "bullish in general on private MSOs that are focused on key limited license states and where they have gone deep within a limited number of states, and where management has been able to execute in an efficient manner."
Silverleaf Venture Partners' Andre Haroche describes Ascend Wellness' growth as "astounding."
"They have a fantastic management team lead by industry-veteran Abner Kurtin and we wouldn't be surprised to see Ascend be publicly traded in the next year or so based on its momentum," Haroche said.